NACE Respiratory allergy experts explain how to prepare for thunder storm asthma this season
Published

Wednesday, November 1, 2023 - 9:00 AM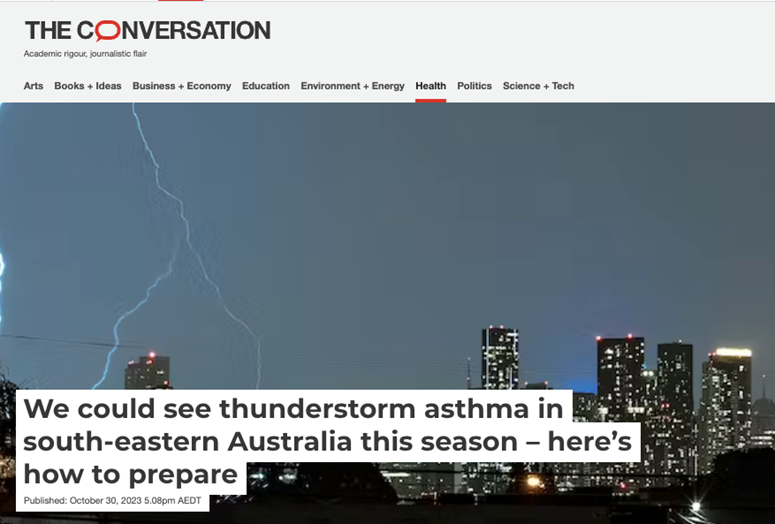 In a recent article in The Conversation, NACE Respiratory Allergy Stream Co-chairs Professor Janet Davies and Associate Professor Joy Lee, with Stream member Professor Jo Douglass, explain how to prepare for the high possibility of thunderstorm asthma in South Eastern Australia this season.
In temperate regions of Australia, thunderstorm asthma occurs when levels of grass pollen in the air are high, and when thunderstorm fronts pass over grass pollen sources. The weather conditions we see with a thunderstorm, including stormy winds and moisture, can break up pollen into particles small enough to enter the airways.
In Australia, most thunderstorm asthma events have occurred during the peak grass pollen season from the end of October through to early December.
With climate change we're seeing significant increases in seasonal loads of airborne grass pollen. Pollen production depends partly on rainfall. Rain preceding the pollen season generally makes grasses grow more, driving up airborne grass pollen levels over the season.
People who are affected by hay fever, asthma or both should be particularly vigilant for thunderstorm asthma warnings.
Thunderstorm asthma alerts are available from the Victorian Department of Health or the Melbourne Pollen Count and Forecast, and you can register for alerts in the Wagga Wagga region in New South Wales. Local grass pollen information is also available for Brisbane, Perth, Canberra and Sydney.
Read the full article
Hear Associate Professor Joy Lee on ABC Radio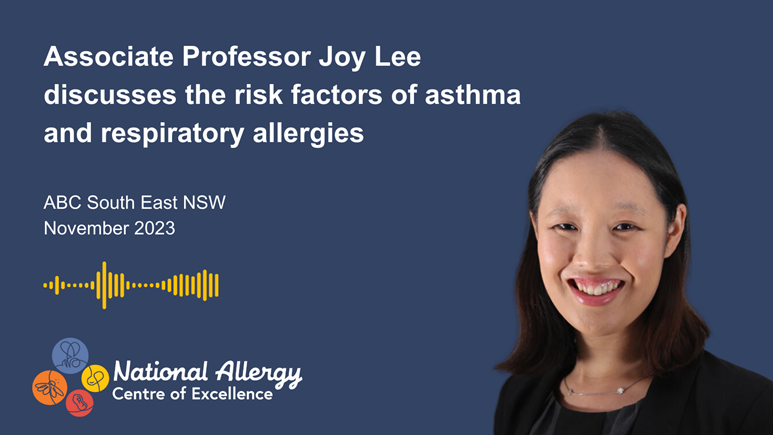 Professor Janet Davies awarded ARC Discovery Project grant
Professor Davies, Head of the Allergy Research Group, School of Biomedical Sciences, at Queensland University of Technology, has also been awarded a Australian Research Council (ARC) 2024 grant to further her respiratory allergy research.
The project aims to use artificial intelligence on digital camera images to learn to see local grass flowers and integrate this with air sensors trained to detect grass pollen types.
The expected outcomes are new capacities to track airborne grass pollen types. These outcomes can transform how pollen can be monitored to reduce the burden of allergies, and provide evidence of changing airborne pollen loads.
Grass pollen is the main outdoor allergen source globally, triggering hayfever and asthma in up to 500 million people. With over 10,000 species, the influence of grass type, location and climate on pollen in the air is not yet known.
Associate Professor Paul Beggs, Professor Michael Milford and Dr Benoît Crouzy will also lead the project.
Find out more at the 2024 Discovery Projects
Proudly in partnership with the National Allergy Council and allergy organisations