Knowledge hub
The NACE Knowledge hub is designed to keep the research community and families informed about the latest allergy news, publications, events and resources.
Allergy Research Events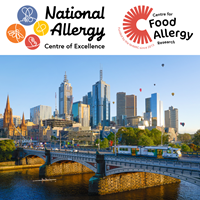 NACE CFAR Retreat
Take part in training opportunities, collaborate with national allergy experts and learn about the latest allergy research underway across Australia. 
16 May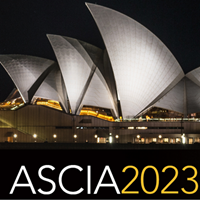 ASCIA Annual Conference 2023
The 33rd Annual Conference of the Australasian Society of Clinical Immunology and Allergy (ASCIA) will be held in Sydney from Tuesday 5 to Friday 8 September 2023.
5 September
Efficacy of a Clinical Decision Rule to Enable Direct Oral Challenge in Patients With Low-Risk Penicillin Allergy. JAMA Internal Medicine. Jul 2023
Development and Validation of a Sulfa Antibiotic Allergy Clinical Decision Rule. JAMA Network. Jun 2023
The Who, What, When and Where of Inpatient Direct Oral Penicillin Challenge - Implications for health services implementation. Clinical Infectious Diseases. Mar 2023
Safety of COVID ‐19 vaccine challenge in patients with immediate adverse reactions to prior doses: A multi‐centre cohort study. Allergy. Aug 2022
Use of a penicillin allergy clinical decision rule to enable direct oral penicillin provocation: an international multicentre randomised control trial in an adult population (PALACE): study protocol. BMJ Open. Aug 2022
Diagnosing drug reaction with eosinophilia and systemic symptoms in a medically complex young child. Journal of Paediatrics and Child Health. Jun 2022
Egg-derived anti-SARS-CoV-2 immunoglobulin Y (IgY) with broad variant activity as intranasal prophylaxis against COVID-19, Frontiers in Immunology, Frontiers in Immunology. Jun 2022
Drug-induced anaphylaxis in Australia: we need a national drug allergy registry, Medical Journal of Australia. Jun 2022
Penicillin allergy SHACK: Survey of hospital and community knowledge, Journal of Paediatrics and Child Health. May 2022
The role of endocrine-disrupting phthalates and bisphenols in cardiometabolic disease: The evidence is mounting Current Opinion in Endcrinology, Diabetes and Obesity, Current Opinion in Endocrinology & Diabetes and Obesity. Apr 2022
Anaphylaxis in Victoria: presentations to emergency departments, with a focus on drug‐ and antimicrobial‐related cases. The Medical Journal of Australia. Mar 2022
Direct oral penicillin challenge for penicillin allergy delabeling as a health services intervention: A multicenter cohort study. Allergy. Nov 2021
Penicillin Allergy Delabeling Program: an exploratory economic evaluation in the Australian context. Internal Medicine Journal. Sept 2021
Neuritin, unmasked as a checkpoint for the pathogenesis of allergy and autoimmunity. Clinical & Translational Immunology. May 2021
Dynamic changes to tissue-resident immunity after MHC-matched and MHC-mismatched solid organ transplantation. Cell Reports. May 2021
Antibiotic Allergy Labels in Children Are Associated with Adverse Clinical Outcomes. The Journal of Allergy and Clinical Immunology: In Practice. Mar 2019.

The development of Jack Jumper ant venom immunotherapy: our 25 years' experience. Internal Medicine Journal. Sept 2023
Verification of the Bühlmann fPELA turbo faecal elastase assay on the Binding Site Optilite benchtop analyser. Annals of Clinical Biochemistry. Oct 2022
5-grass-pollen SLIT effectiveness in seasonal allergic rhinitis: Impact of sensitization to subtropical grass pollen. World Allergy Organization Journal, Feb 2022
Managing Mammalian Meat Allergy and Tick Anaphylaxis. Medicine Today. Mar 2021
Global View on Ant Venom Allergy: from Allergenic Components to Clinical Management. Clinical Reviews in Allergy & Immunology. Jun 2021
Pyridine levels in ceftazidime – peritoneal dialysis admixtures stored at body temperature. Peritoneal Dialysis International. Jan 2020
Stability of ceftolozane and tazobactam in different peritoneal dialysis solutions. Peritoneal Dialysis International. Feb 2020
Tick-induced Allergies: Mammalian Meat Allergy and Tick Anaphylaxis. Australian Doctor: How to Treat. Sept 2020
Pharmaceutical and preclinical evaluation of Advax adjuvant as a dose-sparing strategy for ant venom immunotherapy. Journal of Pharmaceutical and Biomedical Analysis. Aug 2019
Human leukocyte antigen-associated severe cutaneous adverse drug reactions: from bedside to bench and beyond. Asia Pac Allergy. Jul 2019
Developing pharmacogenetic screening methods for an emergent country: Vietnam. World Allergy Organization Journal. Jun 2019
Towards complete identification of allergens in Jack Jumper (Myrmecia pilosula) ant venom and their clinical relevance: An immunoproteomic approach. Clinical & Experimental Allergy. Jul 2018

World Allergy Organization (WAO) Diagnosis and Rationale for Action against Cow's Milk Allergy (DRACMA) guidelines update – X – Breastfeeding a baby with cow's milk allergy. World Allergy Organization Journal. Nov 2023
Australian infant food allergy emergency presentations following updated early food introduction guidelines. Journal of Allergy and Clinical Immunology: In Practice. Jul 2023
Editorial Comment on "Feasibility and safety of introducing cashew nut spread in infant diets - a randomized trial". Pediatric Allergy and  Immunology. Jun 2023
Phase 3 Trial of Epicutaneous Immunotherapy in Toddlers with Peanut Allergy. The New England Journal of Medicine. May 2023
Out-of-hospital health care costs of childhood food allergy in Australia: a population-based longitudinal study. Pediatric Allergy & Immunology. Nov 2022.
Tree nut introduction in infants with peanut and/or egg allergy. Journal of Allergy and Clinical Immunology: In Practice. Nov 2022
A pragmatic approach to infant feeding for food allergy prevention. Pediatric Allergy and Immunology. Sept 2022
Maternal peanut and egg consumption during breastfeeding randomized pilot trial. Pediatric Allergy and  Immunology.  Sept 2022
Ana o 3 sIgE and diagnostic algorithms reduce cost of cashew allergy diagnosis in children compared with skin prick test: A cost comparison analysis. Pediatric Allergy and Immunology. Aug 2022
Association Between Earlier Introduction of Peanut and Prevalence of Peanut Allergy in Infants in Australia. JAMA. Jul 2022
Changes to the Gut Microbiome in Young Children Showing Early Behavioral Signs of Autism. Frontiers in Microbiology. Jul 2022
Study Protocol for a Randomised Controlled Trial Investigating the Effects of Maternal Prebiotic Fibre Dietary Supplementation from Mid-Pregnancy to Six Months' Post-Partum on Child Allergic Disease Outcomes. Prebiotics and Probiotics in Immune Health. Jun 2022
PrEggNut Study: protocol for a randomised controlled trial investigating the effect of a maternal diet rich in eggs and peanuts from. BMJ Open. Jun 2022
Food Proteins in Human Breast Milk and Probability of IgE-Mediated Allergic Reaction in Children During Breastfeeding: A Systematic Review. The Journal of Allergy and Clinical Immunology: In Practice, May 2022
Pre-and Postnatal Vitamin D Status and Allergy Outcomes in Early Childhood. Biomedicines. Apr 2022
Author Reply. Value in health: the journal of the International Society for Pharmacoeconomics and Outcomes Research. Mar 2022
Circulating Epithelial Cell Cytokines Are Associated With Early-Onset Atopic Dermatitis. Journal of Investigational Allergology and Clinical Immunology. Feb 2021

Airborne grass pollen and thunderstorms influence emergency department asthma presentations in a subtropical climate. Environmental Research. July 2023
Does pollen exposure influence innate immunity to SARS-CoV-2 in allergy or asthma? The Journal of Allergy and Clinical Immunology. May 2023
The AusPollen partnership project: Allergenic airborne grass pollen seasonality and magnitude across temperate and subtropical eastern Australia, 2016-2020. Environmental Research. Nov 2022
Compound impacts of climate change, urbanization and biodiversity loss on allergic disease. International Journal of Epidemiology. Oct 2022
Laryngoscopy diagnosis of inducible laryngeal obstruction during supervised challenge for suspected anaphylaxis. Clinical & Experimental Allergy. Aug 2022
Thunderstorm Asthma in Seasonal Allergic Rhinitis: The TAISAR study. The Journal of Allergy and Clinical Immunology. May 2022
Satellite-observed shifts in C3/C4 abundance in Australian grasslands are associated with rainfall patterns. Remote Sensing of Environment. May 2022
Laryngeal hypersensitivity and abnormal cough response during mannitol bronchoprovocation challenge. Respirology. Jan 2022
Analysis of quality control outcomes of grass pollen identification and enumeration: experience matters. Aerobiologia. Dec 2021
Diagnostic and Therapeutic Outcomes Following Systematic Assessment of Patients with Concurrent Suspected Vocal Cord Dysfunction and Asthma. The Journal of Allergy and Clinical Immunology: In Practice. Oct 2021
Dynamics of inhaled corticosteroid use are associated with asthma attacks. Scientific reports. Jul 2021
Characteristics of emergency patients admitted to hospital with asthma: a population-based cohort study in Queensland, Australia.  Emergency Medicine Australasia. May 2021
Biogeographical variation in specific IgE recognition of temperate and subtropical grass pollen allergens in allergic rhinitis patients. Clinical and Translational Immunology. Feb 2020
Frequently Asked Questions
What is allergy?
An allergy is a person's immune system reacting to substances in the environment which are harmless for others. Allergic disease includes several different conditions, the most common of which are food and drug allergy, atopic dermatitis, allergic rhinitis, allergic asthma, insect bite or sting allergies and latex allergy. Less common allergic conditions include idiopathic anaphylaxis (anaphylactic reactions with no known cause), eosinophilic oesophagitis (EoE) and food protein-induced enterocolitis syndrome (FPIES).
Why is a national approach to the allergy epidemic important? 
Allergic diseases are among the fastest growing chronic conditions in Australia, affecting approximately one in five people. Deaths from anaphylaxis in Australia have increased by seven per cent per year (1997-2013). With allergy diagnoses and hospital admissions on the rise, the NACE and the NAC work together to deliver a national plan of action to improve the lives of people living with allergic disease.
Why was the NACE established?
Centre for Food & Allergy Research (CFAR), hosted at the Murdoch Children's Research Institute, has expanded to become the National Allergy Centre of Excellence (NACE). As Australia's peak allergy research body, it will develop hubs for allergy research, repository & discovery, evidence & translation and training & innovation.
The NACE will help ensure Australia remains at the forefront of evidence-based management of allergic disease.
What is the National Allergy Council? 
National Allergy Council (NAC) is a natural progression of the highly valued and successful National Allergy Strategy. The NAC will continue to implement and expand the National Allergy Strategy as a partnership between the Australasian Society of Clinical Immunology and Allergy (ASCIA) and Allergy & Anaphylaxis Australia (A&AA) – the leading medical and patient support organisations for allergy in Australia. Visit the NAC.
Allergy resources
Patient allergy resources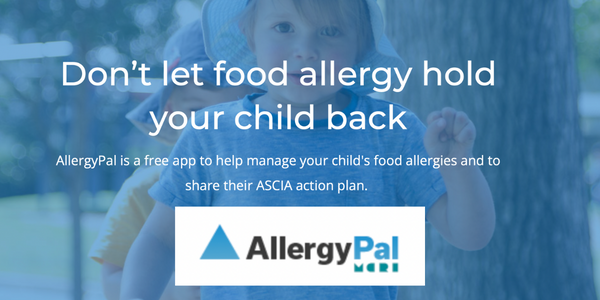 AllergyPal is a digital allergy management platform created by health care professionals to empower everyone to become experts at managing allergy and anaphylaxis.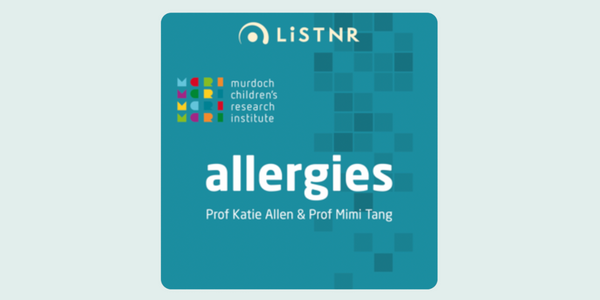 What happens to your body during an allergic reaction? Two leading paediatric allergists and researchers, Professor Katie Allen and Professor Mimi Tang break down in detail the diagnosis, management, prevention and cure of allergies.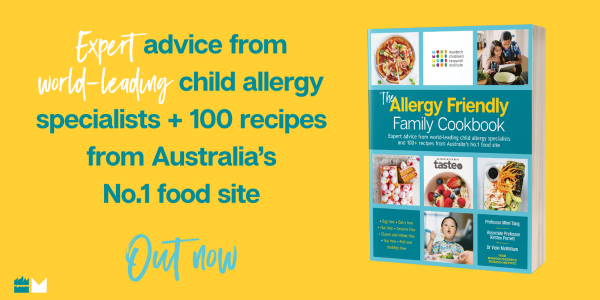 Proudly in partnership with the National Allergy Council and allergy organisations