Food allergy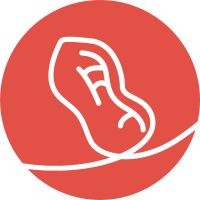 Here's why and how the NACE is working to centralise food allergy research and translation of evidence into practice.
Allergy reality
There is no available treatment for food allergies and management relies on strict avoidance of allergens.
In 2011, one in 10 Australian infants had a food allergy.
Hospital admissions due to severe and life-threating allergic reactions, known as anaphylaxis, are increasing.
More evidence on safety, efficacy and long-term outcomes is urgently needed before emerging therapies are implemented into practice. One of our priorities is to establish a National Allergy Clinical Trials Network to support national, multi-site allergy trials that are embedded in routine clinical care. This will help ensure every Australian with food allergy has access to the best available treatments.
Individuals and families
Got a food allergy?
Researchers
Recruiting for a food allergy study?
Meet the Food Allergy Steam Advisory Group
The Group helps provide a national framework for collaboration and communication among food allergy experts.
Food allergy research and resources
See the latest key publications, news, events and resources about food allergy in Australia, and beyond.
Proudly in partnership with the National Allergy Council and allergy organisations